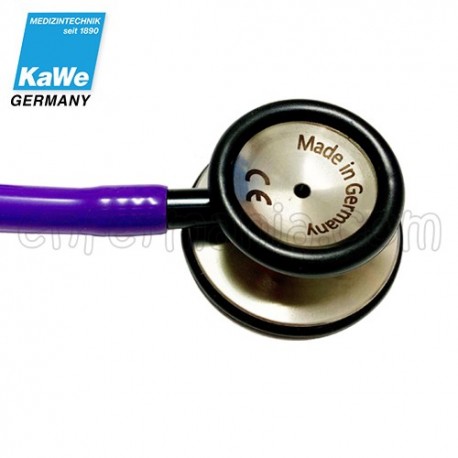  
Stethoscope KaWe Prestige
The stethoscopes of the series KaWe Prestige are used daily all over the world, both in consultations and in the emergency department.
They convince by their outstanding features such as excellent sound quality thanks to the membrane reinforced with glass fibre of high performance, as well as by the solidity and robustness of their head of steel stainless.
Simple, effective and robust.
The stethoscope is presented in luxury case with foam formed and has several spare parts and accessories:
Two pairs of olives to thread
Three membranes different sizes
IDto the tube
Its indicative chart of side of head (reversible) audible indicating, in each moment, the side selected (bell or diaphragm) avoiding loss of time by locating the side connected.
Features:
built in stainless steel (tough and durable)
membrane Ø44 mm bell, Ø37 mm (for all needs)
non chill ringsin the membrane and hood of soft silicone (biocompatible)
tube length of 56 cm (soft and flexible)
soft eartips for screw on (excellent hearing and easy cleaning)
Your stethoscope made in Germany at a reasonable price.