Footwear anatomic, made of rubber resin expanded, strap and folding.
WASHABLE up to 50 º in washing machines.
Ultra-lightweight and non-slip.
Latex free.
Forefoot waterproof.
Antibacterial and antifungal (material resistant to bacteria and fungi that cause bad odor).
Excellent resistance to UV rays, aging, blood, chemicals, and detergents.
Its anatomic space allows you to use any kind of templates, even orthopedic.
COMPLIES WITH EUROPEAN REGULATIONS IN THE FIELD OF PROFESSIONAL FOOTWEAR.
With only a 0.25 gr/cm3 of density, material is the most lightweight shoe to work.
Your 190gr will make you forget you are wearing one.
Possibly the clogs for Nursing more light in the world.
You can check your size HERE
Customer
ratings
starstarstarstarstar
GLOBAL RATING
Global customer rating on this product
There are no ratings for the current language. Select all languages ​​to see all ratings.
You might also like
SOCKS COMPRESSION AND FASHION
starstarstarstarstar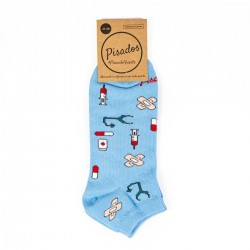 SOCKS COMPRESSION AND FASHION
starstarstarstarstar
SOCKS COMPRESSION AND FASHION
starstarstarstarstar