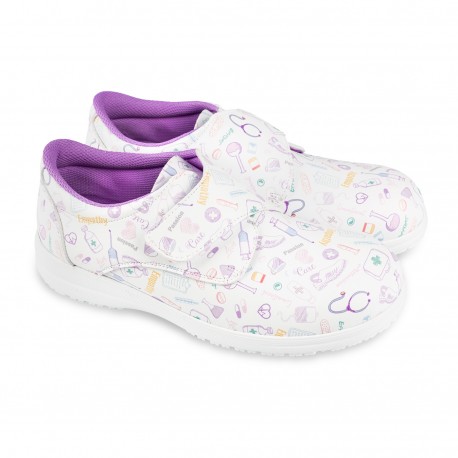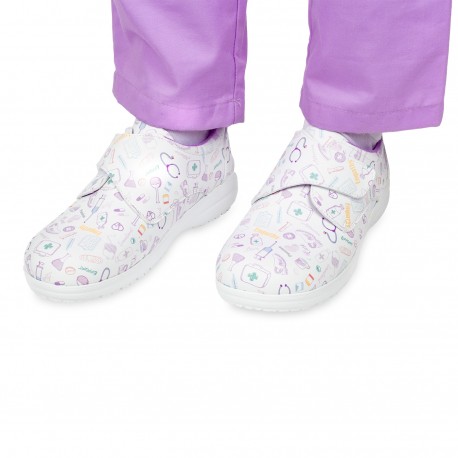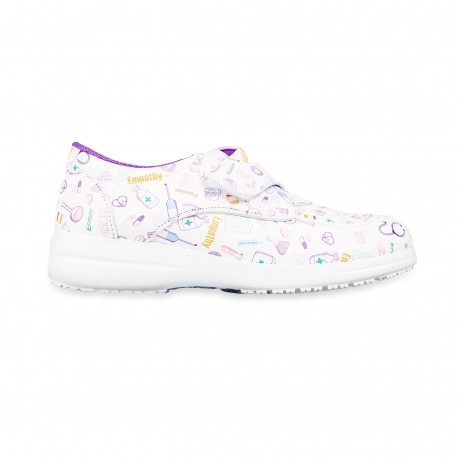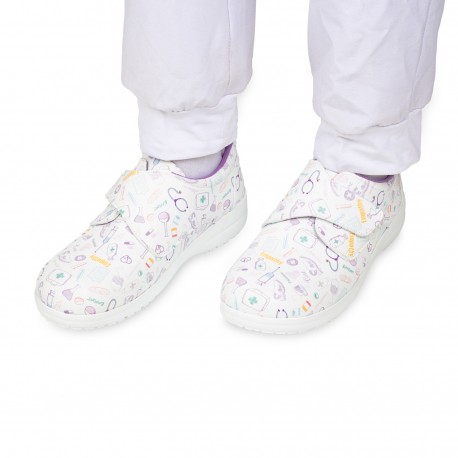 The lightest, most comfortable and beautiful closed sanitary shoe on the market. Closed shoes for nurses with the coolest print, matching other products from the same collection.
The Microfiber Printed Shoes - Medical instruments is signed by the INESCOP VEGAN stamp. 
Features
· Safety, a good level of comfort and a high level of
degree of solidity.
· VEGAN SEAL from INESCOP (ensures that in the manufacture of the clog does not
animal materials are used)
· Non-slip according to UNE-EN ISO
13287:2013.
· Made of EcoT, Global Recycled Certified Recycled Material
Standard.
· Non-slip COMFORTlight EVA sole, specially designed
to allow for perfect anatomy, bending and optimal grip.
· Leather-EVA leather insoles lined in leather, antibacterial, breathable and
replaceable.
· Comfortable and beneficial for those who walk or remain
foot for long periods of time, reducing muscle fatigue
feet and legs.
· Active and passive safety: adapts to the foot and closes with the system of
absorbing impacts and offering maximum comfort,
avoiding risks and de-installation falls.
· Simple and practical closure with velcro, adjusting to the need of your
Foot.
· Anatomical and ergonomic last.
USE AND MAINTENANCE
· The sanitary ATOM shoe model cannot be washed in a washing machine or in
no industrial cleaning. It is convenient to regulate cleaning with a
cloth, sponge or suede wet with water.
· Do not dry shoes near direct sources of heat and do not expose shoes to temperatures
above 30oC.
· Recommended for the proper functioning of foot perspiration
change the template daily.
· For proper use of these shoes it is advisable to choose the model
appropriate according to the specific needs of the workplace and
weather conditions for the different types of protection of each
Shoes.
· It is not possible to set an expiration date, so it is recommended
discard the footwear when accentuated wear is observed on the sole.
CE CERTIFIED REGULATION
The CE marking appears on the footwear, so it meets the requirements
Directive 89/686/EEC on equipment
(EPI), which guarantees their safety and a good level of
comfort and a high degree of solidity.
This footwear is manufactured under the criteria of the minimum essential requirements
Annex II to DR 1407/1992 of 20 November.
You can check your size HERE