The most beautiful and original medical shoes !!
The holey system allows the perfect breath for your feet, it also allows to place our decorative buttons without problems, to customize your clogs as you like.
Anatomic Footwear , made of Foam Rubber resin  with adapted strap.
WASHABLE in the washing machine.
Ultra-light weight and anti-slip ensuring the perfect grip to the ground.
Latex free
Antibacterial and antifungal avoiding any smell
Several and very colorful prints where you can choose from.
You can check your size HERE
Customer
ratings
starstarstarstarstar
GLOBAL RATING
Global customer rating on this product
There are no ratings for the current language. Select all languages ​​to see all ratings.
You might also like
SOCKS COMPRESSION AND FASHION
starstarstarstarstar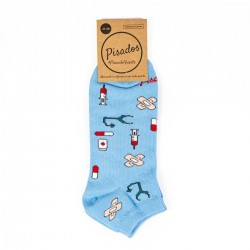 SOCKS COMPRESSION AND FASHION
starstarstarstarstar
SOCKS COMPRESSION AND FASHION
starstarstarstarstar